Biopharmaceutical Industry
With almost 25 years of experience, Synder Filtration has proven to be one of the top suppliers of membrane filtration technology throughout the biopharmaceutical industry. As a manufacturer of both membranes and systems, we strive to provide quality products and reliable service for our customers around the world. Our ultrafiltration line of elements has gradually expanded over the years, to contain one of the most extensive pore size ranges available for use in applications such as enzyme concentration and endotoxins removal. Our nanofiltration line of elements has also proven effectiveness for applications such as antibiotics production and protein desalination and concentration. For these reasons, we take pride in fully understanding the needs of our customers in order to produce membranes and systems suitable for their separation needs.
---
Challenge
Solution
Case Study
Specsheets
Resources
Synder also offers a comprehensive application development program including feasibility testing for newer specialty process applications. Please contact us for more information. You will receive a personal response from one of our experienced team members within 24 hours
Applications
---
CASE STUDY
---
questions?
Fill out this form. We'll contact you within 24 hours!
---
Resources
MEMBRANE RESOURCES
Module Configurations & Processes
-> View all membrane resources
---
TUTORIALS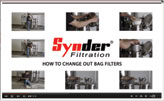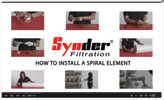 ---